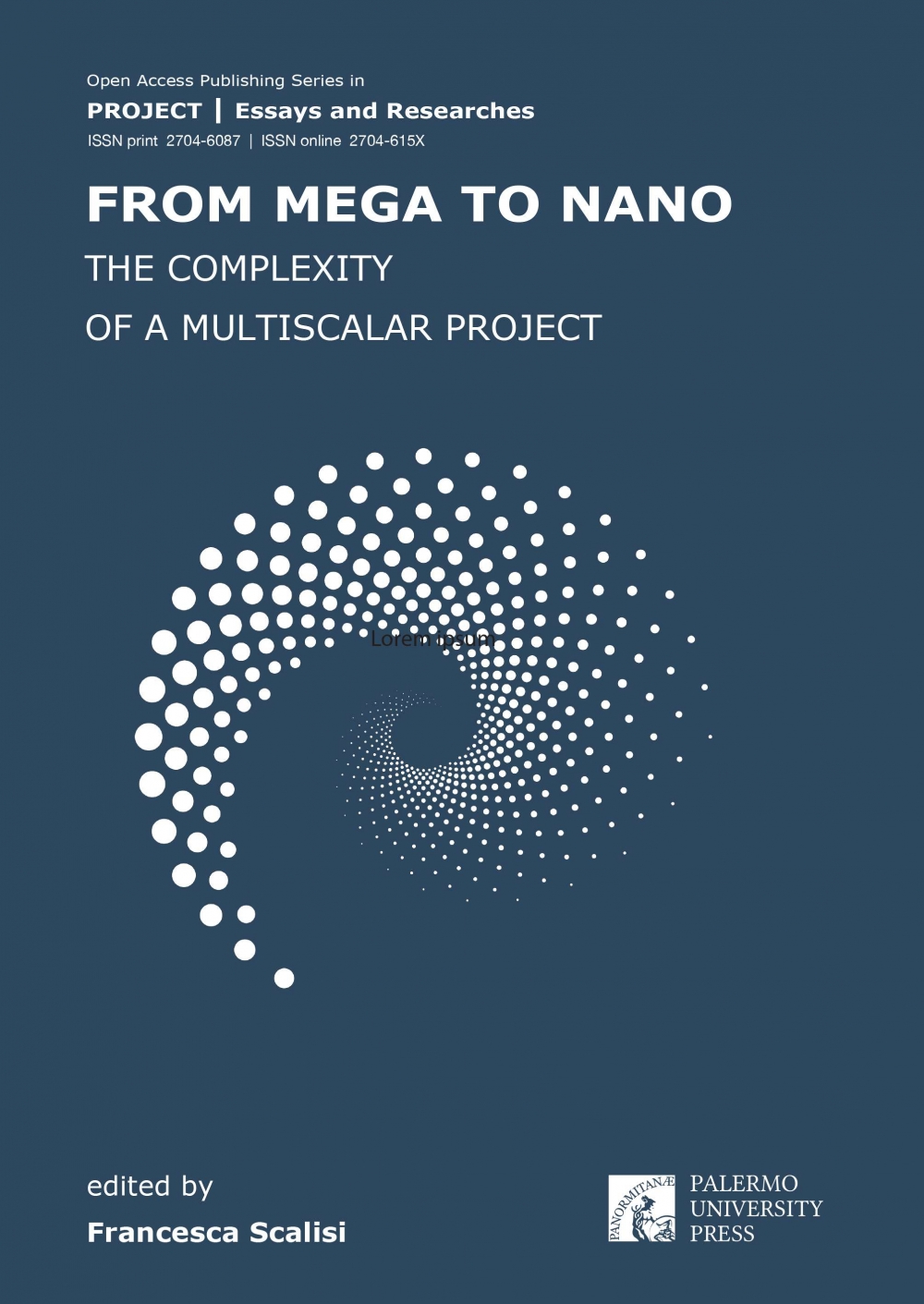 FROM MEGA TO NANO
Title
DESIGN(ING). THE MULTISCALAR PROJECT
DOI
https://doi.org/10.19229/978-88-5509-189-3/492020
Keywords
design, design scale, design culture, material, rules
Abstract
The term 'design(ing)' moves on a play on words in which the noun 'design' becomes a verb, synthesizing in one word two terms, defining a multiscalar and transdisciplinary conceptual dynamism. Designing as a transversal disciplinary bridge, but with a wider cultural meaning, wanting to emphasize that often in the art of composing there are no fences, belonging as the Italian language does with design: a cultural and methodological synthesis between being and doing. The term design, therefore, takes on an important cultural value because it goes beyond the disciplinary fences by combining art, architecture and design in a single concept, capable of designing vertically in the different scales of definition and horizontally from discipline to discipline. In the history of design and architecture, many virtuous examples testify to this cultural attitude.
Section
pp. 154-169
Description
Design | Essays & Viewpoint
Desig(ing). The multiscalar project
Author(s)
Paolo Di Nardo, Alessandro Spennato
Author(s) Biography
Paolo Di Nardo Architect and PhD, is a Contract Professor of Interior Design at the Department of Architecture of the University of Florence (Italy). Visiting Professor at several foreign universities and Director of the magazine AND, in 2002 he founded Studio ARX which deals with architectural design and research; he is also the author of numerous articles and essays on architecture and design. Mob. +39 335/56.17.170 | E-mail: paolodinardo@and-architettura.it
Alessandro Spennato Designer and subject expert, is a Technologist in Design at the Department of Architecture of the University of Florence (Italy). Since 2013 he is Scientific Coordinator of the Models Laboratory for Design. From the beginning to University education in the field of design, he has developed interests and studies in the field of graphic and generative design. Mob. +39 338/19.50.170 | E-mail: alessandro.spennato@unifi.it
References
Annichiarico, S. (2009), Martino Gamper – Stanze e camere – 100 chairs in 100 days, Mondadori Electa, Milano.
Barthes, R. (1978), Leçon: Leçon inaugurale de la chaire de sémiologie littéraire du Collège de France, prononcée le 7 janvier 1977, Edition du Seuil, Paris.
Barocchi, P. (1990), Storia moderna dell'arte in Italia – Manifesti polemiche documenti, Giulio Einaudi Editore, Torino.
Di Nardo, P. and De Lucchi, M. (2010), "Designing and me – Il Chiosco. Uno spazio privato", in AND, vol. 17, pp. 36-43. [Online] Available at: https://and-architettura.it/index.php/and/article/view/226 [Accessed 28 February 2020].
Le Corbusier (2003), Verso una Architettura [orig. ed. Vers une Architecture, 1923], Longanesi, Milano.
Munari, B. (1992), Un'altra sedia. [Online] Available at: www.youtube.com/watch?v=bfP1BNUHZBc [Accessed 30 March 2020].
Munari, B. (1998), Da cosa nasce cosa: Appunti per una metodologia progettuale, Editori Laterza, Bari.
Rodari, G. (1992), Grammatica della fantasia – Introduzione all'arte di inventare storie, Einaudi Ragazzi, Torino.
Rogers, E. N. (1946), "Ricostruzione: dall'oggetto d'uso alla città", in Domus, vol. 215, pp. 2-5.
Rowe, C. (1977), The Mathematics of the Ideal Villa and Other Essays, MIT Press, London.