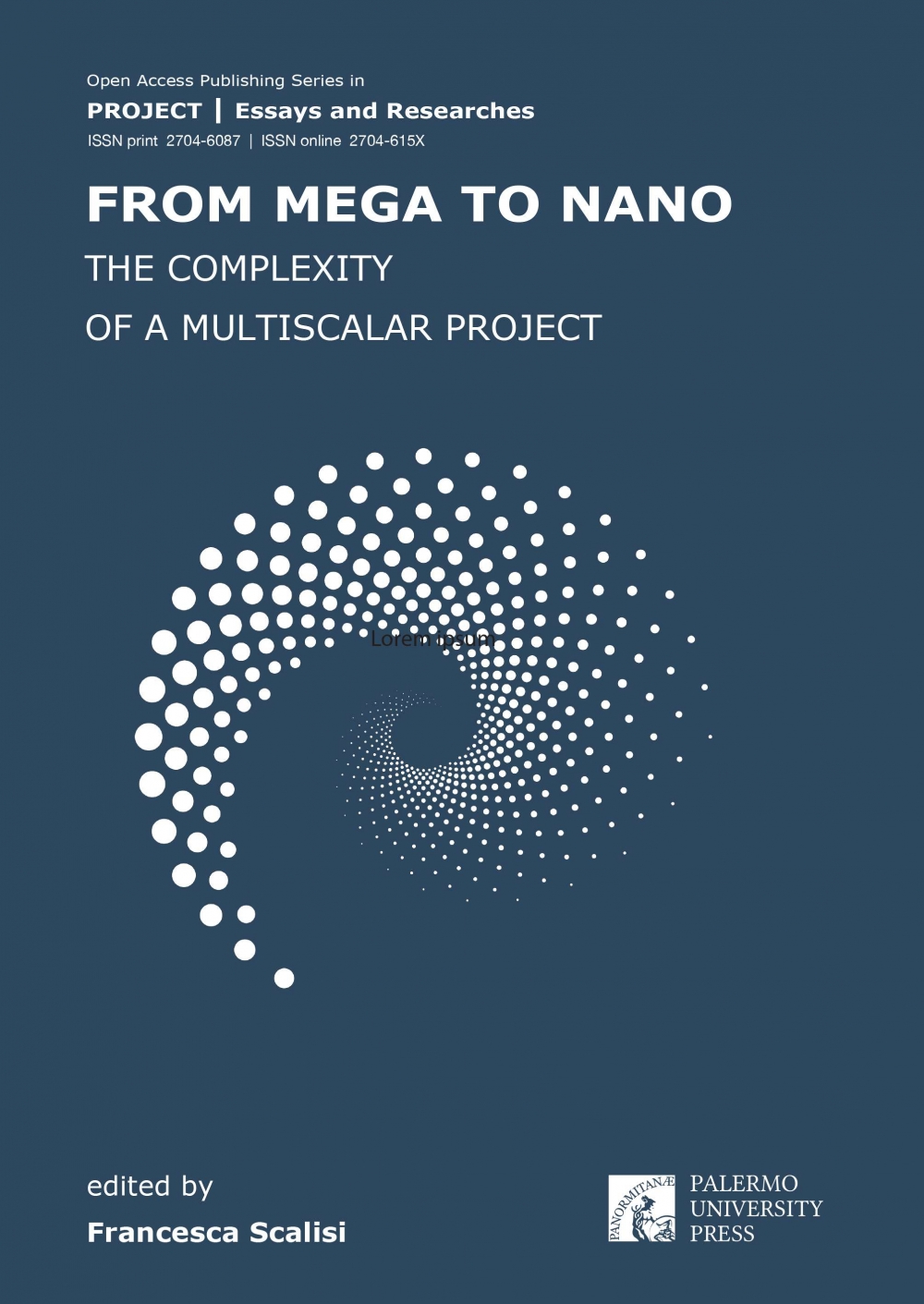 FROM MEGA TO NANO
Title
DESIGN OF THE ATMOSPHERES AND THE NARRATIVE DIMENSIONS. LITERARY WRITING AND VISUAL WRITING
DOI
https://doi.org/10.19229/978-88-5509-189-3/4102020
Keywords
communication design, landscape, translation, literature, photography
Abstract
Thanks to the character of verbal writing, which attracts and evokes images, it is possible to imagine the places, the characters and the atmospheres of a literary text. The implicit ability to conceive forms from the linguistic content is due to the characteristic figurativeness of the texts, which lend themselves to the reader's comprehension, allowing him to perceptually portray the verbally cited referents. However, the sensitive identity of literary places maintains a connection with the spaces, a connection created through 'suspended' realities, as it isn't possible to truly represent these spaces. The research question raises the issue of the representation of the author's places. Therefore, design acts as a translation tool, which allows the atmospheric content of literary places to be visible.
Section
pp. 170-187
Description
Design | Research & Experimentation
Design of the atmospheres and the narrative dimensions. Literary Writing and Visual Writing
Author(s)
Daniela Anna Calabi, Elisa Strada
Author(s) Biography
Daniela Anna Calabi is an Associate Professor at the Design Department of the Politecnico of Milan (Italy). She carries out research mainly in the field of Communication Design, in particular to the design of the perception, atmosphere, geocriticism and identity of the territories. E-mail: daniela.calabi@polimi.it
Elisa Strada is a Designer of Communication. She carries out researches on the possibility of creating experiential formats for publishing by viewing narrated places. E-mail: elisa.strada@mail.polimi.it
References
Barthes, R. (2019), Sul racconto – Una conversazione inedita con Paolo Fabbri, Marietti, Bologna.
Barthes, R. (1999), Variazioni sulla scrittura seguite da Il piacere del testo, Einaudi, Torino. [Online original French text] Available at: palimpsestes.fr/textes_philo/barthes/plaisir-texte.pdf [Accessed 15 July 2020].
Bertone, G. (1994), Italo Calvino – Il castello della scrittura, Einaudi, Torino.
Bertrand, D. (2002), Basi di semiotica letteraria, Meltemi, Roma.
Bruno, G. (2006), Atlante delle emozioni – In viaggio tra arte, architettura e cinema, Bruno Mondadori, Milano.
Calvino, I. (1947), Il sentiero dei nidi di ragno, Einaudi, Torino.
Dusi, N. (2006), Il cinema come traduzione – Da un medium all'altro: letteratura, cinema, pittura, Utet Università, Novara.
Eco, U. (2003), Dire quasi la stessa cosa – Esperienze di traduzione, Bompiani, Milano.
Garibaldi, R. (ed.) (2014), Il turismo culturale europeo – Città ri-visitate – Nuove idee e forme del turismo culturale, FrancoAngeli, Milano.
Griffero, T. (2016), Il pensiero dei sensi – Atmosfere ed estetica patica, Guerini e Associati, Milano.
Griffero, T. (2010), Atmosferologia – Estetica degli spazi emozionali, Laterza, Bari.
Griffero, T. (2009), "Atmosfericità. Prima impressione e spazi emozionali", in Aisthesis, anno II, vol. I, pp. 49-66. [Online] Available at: www.yumpu.com/it/document/read/3808645/atmosfericita-aeuroeprima-impressioneaeur-aisthesis-rivista-di-estetica- [Accessed 6 May 2020].
Lancioni, T. (2009), Immagini narrate – Semiotica figurativa e testo letterario, Mondadori, Milano.
Lo Feudo, G. (2013), "Dall'iconico al verbale: traduzione intersemiotica e corrispondenze estetiche. Una ricerca empirica", in Rivista Italiana di Filosofia del Linguaggio, vol. 7, n. 1, pp. 58-92. [Online] Available at: www.rifl.unical.it/index.php/rifl/article/view/6 [Accessed 6 May 2020].
Marmo, L. (2018), "Fotografia, aura e atmosfera: l'esperienza filtrata ai tempi di Instagram", in Menduni, E. and Marmo, L. (eds), Fotografia e culture visuali del XXI secolo, RomaTrE-Press, Roma, pp. 537-554.
Moretti, F. (1997), Atlante del romanzo europeo – 1800-1900, Einaudi, Torino.
Ortese, A. M. (1998), Silenzio a Milano, La Tartaruga Edizioni, Milano.
Ortoleva, P. (2009), Il secolo dei media – Riti, abitudini, mitologie, Il Saggiatore, Milano.
Pezzini, I. (2014), "Semiotica del paesaggio. Recensione a 'Paesaggi di Calvino' di Fabio Di Carlo", in E/C | Rivista dell'Associazione Italiana di studi semiotici, pp. 1-3. [Online] Available at: www.ec-aiss.it/index_d.php?recordID=700 [Accessed 6 May 2020].
Scuri, S. and Calabi, D. (2015), "Communication design for accessing cultural landscape | Design de Comunicação para o acesso à paisagem cultural", in Strategic Design Research Journal, vol. 8, issue 1, pp. 29-35. [Online] Available at: revistas.unisinos.br/index.php/sdrj/article/view/sdrj.2015.81.05 [Accessed 6 May 2020].
Segre, C. (1985), Avviamento all'analisi del testo letterario, Einaudi, Torino.
Souiller, D. and Troubetzkoy, W. (2002), Letteratura comparata – Volume II – I generi e il testo, Armando Editore, Roma.
Vitale, M. G. (2013), "Sul concetto di 'atmosfera' – Intervista a Tonino Griffero", in La Critica, anno XII, n. 39. [Online] Available at: www.lacritica.net/griffero.htm [Accessed 20 March 2020].
Zingale, S., (2016), "Come una traduzione – La traduzione nel senso del design", in Baule, G. e Caratti, E. (eds), Design è Traduzione – Il Paradigma Traduttivo per la Cultura del Progetto, FrancoAngeli, Milano, pp. 71-94.